FROM GLOBAL ROOTS TO JACKSON HOLE BREWS
My Prelude to Jackson Hole

Growing up, my home was a confluence of two distinct cultures: my father's Moroccan heritage and my mother's Filipina roots. Our gatherings, often around meals or drinks, epitomized how diverse backgrounds could unite, share stories, and forge a vibrant community.

My parents, both immigrants, deeply instilled in me the value of nurturing connections and giving back. I've been fortunate to carry forward these lessons in every facet of my life—from fostering lasting relationships and building businesses to my dedicated nonprofit board work, all often punctuated by a memorable cup of coffee.

After my time at Columbia University, I transitioned into the fast-paced world of finance in New York. Despite the city's relentless energy, my high school sweetheart and I, now married, often sought out quiet escapes. We'd sidestep the bustling coffee chains, seeking the unique atmosphere of local coffee shops.

There, it wasn't just about the coffee itself, whether a brew or an espresso, but the pockets of community that stood as a serene counterpoint to the city's hustle.
In 2014, compelled by Jackson Hole's vibrant community and promise of adventure, I relocated westward, establishing Outpost. It quickly ascended as the valley's top vacation rental company, thanks in part to our commitment to exceptional customer service and strong focus on local connections.
A testament to this was our decision to offer guests Snake River Roasting Company's specialty coffee. Outpost's success and our flourishing relationship with the roastery hinted at a potential deeper collaboration in the future.
With my growing connection to Snake River Roasting Company, I considered a greater involvement in its trajectory. Ruth Ann and Mark Barron, deeply devoted to their business, its staff, and their clientele, were selective when envisioning the next person to guide its future. Their aspiration: that their coffee, a tribute to Jackson Hole's iconic river, would continue to warm the hearts of the community. With a deep-rooted appreciation for Jackson Hole and a commitment to its people, I felt an inner pull to further their legacy.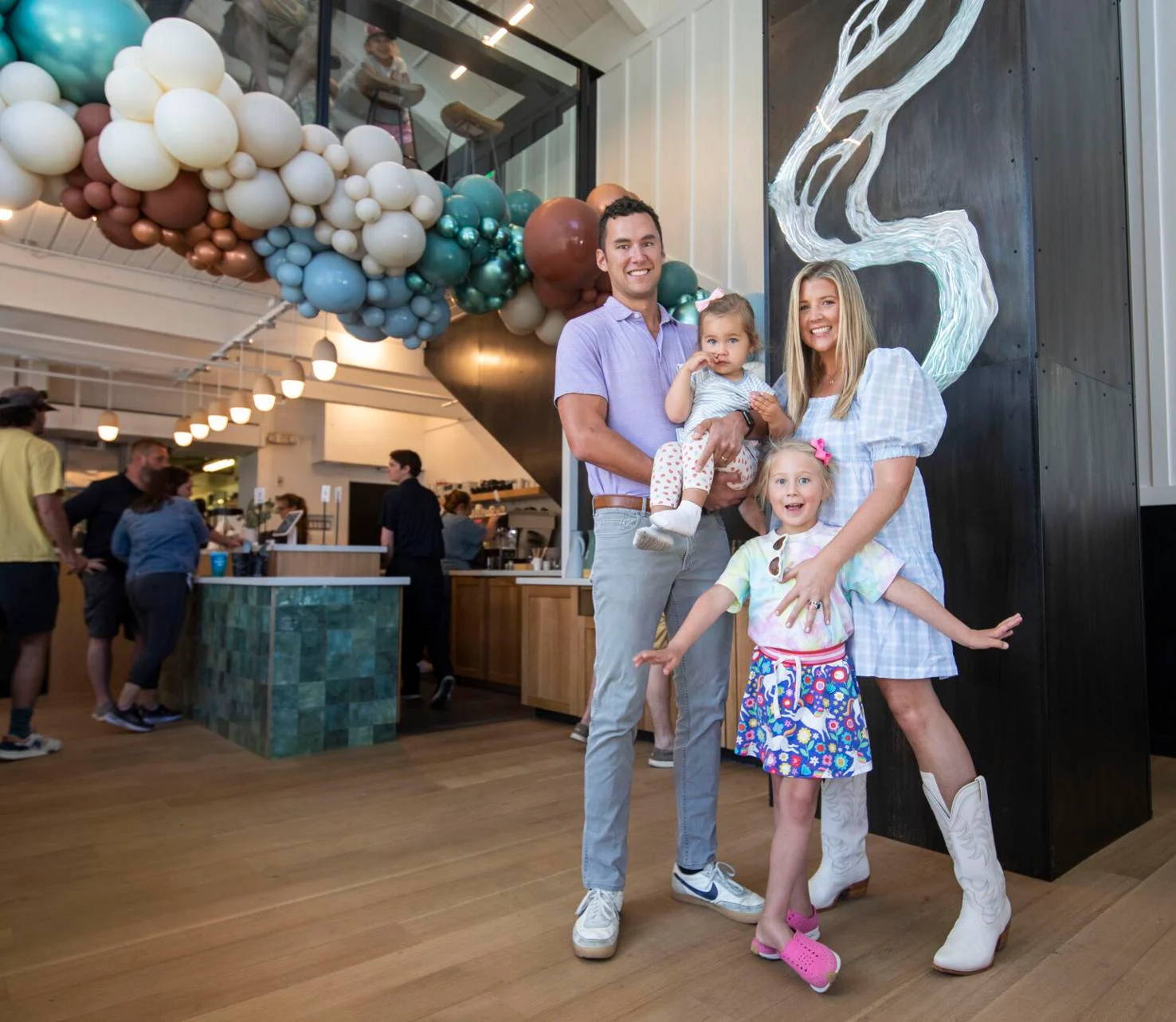 In 2022, I opened Snake River Roasting Company's first physical location right off Jackson Hole's Town Square. More than just a place to savor exceptional coffee, it stands as a symbol of passion, community, and our mission: "Coffee inspired by Jackson Hole, Fueling Life's Adventures." Here, the unique essence of roasting at altitude, the meticulous detail we invest in every small batch using our precision 22-pound roasters, and the spirit of Jackson Hole itself is palpable with every brew. When my wife, our three children, and I step inside, we're not just entering a coffee shop; we're joining a community where every sip, every greeting, reaffirms the deep connection between our family's journey and the soul of Jackson Hole.
Waking up at 5am, my day kicks off with the our Roam coffee, freshly brewed via drip. Post-workout, after the joyful chaos of dropping off my kids, I treat myself to an Espresso Spritz made with our Lunch Counter Half-Caff. It's my midmorning indulgence, perfectly tailored so I can enjoy up to two cups without surpassing my noon caffeine cutoff. And if the morning air is a bit crisp, that spritz transforms into a cozy Americano.